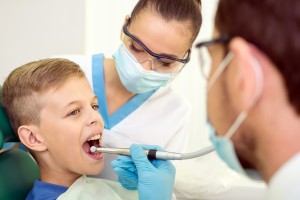 For some people, braces are about having beautiful teeth. But more importantly, straightening teeth can contribute to good oral health. In Dental Clinic @ Richmond Centre, we provide multiple ways for patients to straighten their tooth alignment.
Classic Braces
Braces are a great orthodontic tool for kids, teenagers and adults. It's never too late to start treatment!
Traditional braces are made of metal brackets cemented to the front of teeth. These brackets anchor the wire that is tightened to encourage proper tooth movement. Small rubber bands wrapped around the brackets secure the wire in place.
Variety in band and bracket color lets you enjoy some creative expression! We can help you design a smile in braces that's uniquely your own. If you desire, we can help make your braces look as low-visibility as possible.
Invisalign
Straightening your teeth doesn't always mean you have to wear metal brackets and wires. Like braces, this series of trays gradually encourages teeth into proper position. Unlike braces, Invisalign gives you a lot of freedom. You can smile metal-free and eat all the foods you love.
We recommend Invisalign for adults and teenagers who take good care of their teeth.
Braces Option @ Richmond Centre
Are braces right for you and your family?
Find out by visiting our orthodontic experts at Dental Clinic @ Richmond Centre. Our convenient mall location makes it a breeze to schedule a braces consultation. Call us today!