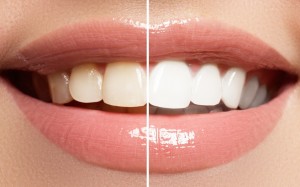 Tired of seeing those discolored teeth in the mirror?
Teeth very quickly pick up stain from coffee, juice, red wine, tea, soda and berries. Factors like aging and medication can also cause teeth to darken.
We've got the solution for stained teeth right here in Richmond Centre Mall.
Teeth Whitening At Dental Clinic @ Richmond Centre
Sometimes, those at-home whitening products you find at the store just aren't enough. You might need a professional grade whitening treatment to get the desired result. That's why our team at Dental Clinic @ Richmond Centre offers teeth whitening as a cosmetic dental procedure.
Professional whitening involves concentrated bleaching chemicals applied directly to your teeth. Customized trays ensure thorough application. Bleaching your teeth is a very safe procedure when it's overseen by dental professionals.
We offer whitening through two methods: in-office Zoom! bleaching sessions and take-home custom trays. These options give you the freedom to choose the method that suits your tastes the best.
If you want instant results, we recommend the Zoom! treatment. For controlled and gradual change, try the at-home method. Or, you can do both – whiten your teeth in our office and maintain the results with the custom trays.
Keep Your Smile Bright!
Ready to give your smile a bright new start? Teeth bleaching is just one of the many cosmetic dental treatments we offer. Contact us today to schedule your teeth whitening consultation at Dental Clinic @ Richmond Centre.